Should I be conducting background checks on applicants?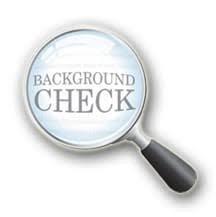 Part 1 of 2
Have you ever heard the phrase "don't judge a book by its cover"? This phrase rings true when it comes to hiring. Interviews are an important part of the process and give a hiring manager a good impression of the candidate. But employers should not stop at the interview because, unfortunately, not everyone is always completely honest. A background check run by a reputable source can provide further information that a candidate may, or may not, voluntarily divulge. In addition, professional references may offer some insight into the applicant's work history.
Think about your last job interview – you're competing with an unknown number of qualified people for a job you really, really want.  Even the most honest people in that situation may shine a light on their best qualities and work habits while keeping anything negative about themselves in the dark. Employers have to dig a little deeper to get to the bottom of a candidate's past.
It can cost employers thousands of dollars to find, hire, and train new employees so it is important to find the right person for a position. For example, if you are looking to hire an installer who would need to drive from job site to job site, you must ensure that this individual has a valid driver's license and a clean driving record. Employers also have a responsibility to their employees to keep them safe. Hiring someone with a violent past could potentially put your employees or even your customers at risk of being harmed. Employers could even be found legally negligent if one of their employees harms another person and it is discovered that the employer failed to run a background check that would have revealed convictions for violent crimes.
An employer's first line of defense is the employment application. Many employers incorrectly assume that they are not allowed to ask about criminal history on a job application. Most employers in the U.S. are allowed to ask if applicants have been convicted of criminal offenses (excluding some cities and states which have laws prohibiting them from asking about criminal history), however, they should avoid blanket hiring policies that exclude anyone with any type of criminal history. Asking about criminal convictions on the application allows the applicant the opportunity to be forthright about their past. It also allows the employer the chance to ask what happened, why it happened, and how the candidate feels about it. On the other hand, if the candidate lies about their criminal past on their application, then an employer has ground to not hire that person, regardless of the nature of the crime. In addition, your application should also include language which authorizes your company to investigate the candidate's criminal and professional background, credentials, certifications, education, driving record, or any other information that is pertinent to the position.
Obtaining professional references and employment verifications from prior employers can also provide additional insight into a candidate's work history. Many employers tend to stick with only providing basic information about former employees such as dates of employment, job title, and pay rate. Even with just the most basic information on a candidate, you can verify that they provided accurate information on their application and resume. However, some employers are more willing to share their experiences so it never hurts to ask why the applicant no longer works there, how they worked with others, and if they would be welcome back should they reapply in the future.
Conducting a background check is a vital part of the hiring process. UAP can save our clients time by conducting just about any type of background check an employer would need and we can also obtain professional references and employment verifications. And with our discounted rates, we may also be able to save you money when you utilize our background check services.
Be sure to check out Part 2 of this blog for information on how to make hiring decisions based on the results of background checks.