Should I Require My Employees to Get the COVID-19 Vaccine?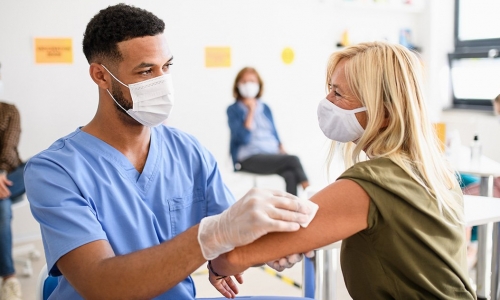 The EEOC recently released Technical Assistance to provide guidance to employers considering requiring employees to receive the COVID-19 vaccine. While, for the most part, employers can require employees to get vaccinated, it begs the question: should employers require employees to get vaccinated?
For employers contemplating if they should require employees to get vaccinated, the most important factor to consider is the nature of the work and the degree of risk associated with those who are not vaccinated. In healthcare industries, where employees are subjected to potential exposure multiple times per day, employers are much more likely to require the vaccine. These employers must think of not only their employees, but also the patients in their care. Similarly, employers whose employees are working closely with the general public may also want to consider vaccine requirements to minimize risk and the length of quarantine following exposure. Alternatively, there are many occupations where workers have little to no close contact with other people and the risk of spreading the disease is very low.
While there are many industries where vaccine mandates are obviously necessary, not all workplaces have to rush to implementing this rule. Business owners should first consider what they would do if a portion of their staff cannot get vaccinated or do not want to get vaccinated. Some employees may not be able to get vaccinated due to medical reasons and a reasonable accommodation may be in order. Some employees may have religious beliefs that prevent them from getting vaccinated. These two groups of employees have protections under the Americans with Disabilities Act and Title VII of the Civil Rights Act. Some people have other personal reasons for not wanting to get vaccinated.
Employers requiring mandatory vaccinations also have to think of the consequences they may want to impose on those who refuse. Is the penalty termination? Is the penalty an indefinite working from home situation? If the penalty is termination, employers should find out if their employees are vaccinated yet and if they plan to. Since there may be employees who resist the vaccine, some employers may not want to make the tough choice to terminate those people. Not only is there a wide-spread labor shortage, but in general, finding, hiring, and training quality employees is not a simple, quick, or cheap task. Once you know the percentage of your staff willing and able to get vaccinated, you will be better prepared to make an educated decision regarding your policy.
If a large percentage of your staff is unwilling or unable to get vaccinated, you may want to consider another approach, such as offering an incentive to those who do get vaccinated. The EEOC's Technical Assistance also addresses employers offering incentives for getting vaccinated. Federal EEO laws do not prevent or limit employers from offering incentives to employees getting vaccinated from a third party such as a healthcare provider or pharmacy.
Before taking the leap towards requiring mandatory vaccinations, consider the potential consequences to your business if you are in a position in which you may need to fire multiple employees in a short period of time. This could also cause a longer-term morale issue if multiple employees are let go in a short time and the remaining employees have to carry a much heavier work load as a result.
Ultimately, employers have a duty to ensure the health, safety, and wellbeing of their employees while they are at work. There is a lot to consider and making a decision regarding a mandatory vaccination policy could be very tricky for many businesses. If your business needs some direction, contact UAP today!